BIRD FOOD FOR BONE HEALTH
The health benefits of the gluten-free, grain-like seed called millet will have  you ready to toss it in your skillet. Seriously.  A chief cereal grain for millions in North Africa and Asia millet is a great source of manganese and phosphorous, important minerals for bone health. As mentioned in a previous millet recipe, it's high-silica content keeps bones flexible as we age.
Now, mix silica-rich millet with the calcium-loaded tahini and you've got yourself a bone-building bowl of goodness.
I spotted this recipe on the cover of Meredith Baird's Everyday Detox book and thought it looked delicious, so I bought the book and followed her lead with a few revisions.
Enjoy!
Recipe
The Goods: Millet
1 cup millet
2 cups water
2 Tbsp sesame oil
2 Tbsp apple cider vinegar
4 Tbsp toasted sesame seeds
1 avocado, peeled and pitted
1/4 cup wakame (seaweed), soaked and drained (optional)
2 carrots, julienned
1 cup purple cabbage, shaved
The Goods: Tahini Dressing
1/2 cup tahini
2 Tbsp lemon juice
1 clove garlic, minced  (optional)
2 Tbsp Tamari (soy sauce)
2 tsp fresh ginger, grated
1 cup water
1 tsp agave (optional)
The Magic: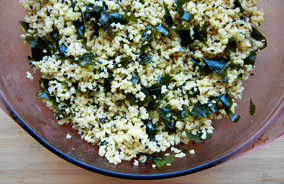 STEP 1: In a saucepan, bring the millet to a boil with water. Ad salt. Allow to simmer for about 25 minutes. It should be fluffy. Drain if needed. Toss millet with wakame, sesame oil, vinegar, and sesame seeds.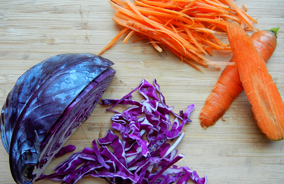 STEP 2: Prep carrots and cabbage while millet is cooking. For the dressing, place all ingredients in a blender and blend until smooth or whisk together in a medium-sized bowl. Divide millet into bowls and add the remaining goods - avocado, carrots and cabbage. Top with dressing and enjoy!