A SIMPLE & DELICIOUS GIFT
These easy truffles will bring a holiday smile to any chocolate lover on your list. The richness of the raw cacao powder combined with the mild sweetness of the dates and hint of sea salt are a match made in heaven for your tastebuds and health! All chocolate is made from the cacao (cocoa) bean, and cacao beans in their natural, unprocessed, unadulterated state are rich in nutrients. Cacao beans are especially high in magnesium helping to:
Build strong bones
Regulate heart beat and blood pressure
Balance brain chemistry and helps with migraines
And since 80% of the US population is deficient in this mineral, these truffles make a wonderful gift. Happy holidays!
Recipe
The Goods:
1 cup almonds
12 medjool dates
1/2 cup raw cacao powder
1/2 cup organic coconut oil
1 tsp vanilla extract
pinch of sea salt
The Magic: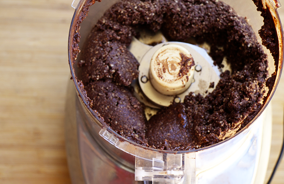 STEP 1:Place all ingredients in a food processor and pulse until everything is mixed together and turns clumpy. Roughly 1 minute or so. Next place truffle mixture in the refrigerator for 10-15 minutes.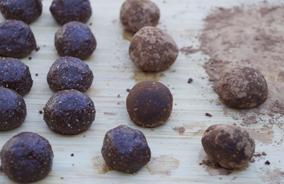 STEP 2:Remove truffle mixture from refrigerator and roll into balls. I used a about 1Tablespoon for each. Next, roll finished truffle in cacao powder crushed almonds, or coconut flakes to decorate for additional flavor and texture. Keep refrigerated.