NOURISHMENT IN THE NEW YEAR
With the beginning of each New Year comes the reflection of the past, present and future surrounding this beautifully short, confusing, amazing, awe-inspiring, strange experience called life. There's so much to do, see, and try that it can seem overwhelming at times, at least for me. I'm a dreamer, I'm a creator and I'm a firm believer that the strength to live out one's dreams comes from within. Dreaming big and following that call is a test of determination, strength, courage and it is packed with fear, uncertainty, confusion, anxiety and to be honest…sheer terror.  I don't believe you can have one without the other. What I do believe, however, is the incredible power that develops through a practice of surrendering to those fears as you move towards whatever that dream is. That dream is comprised of something that is bigger than you and me and it's always working in our favor – call it Universe, God, Force –  it is real and it is beckoning you to pay attention to it.  All it asks of you is to believe it, trust it and hold it gently in your beautiful vision. Then move towards it no matter how practical or impractical, big or small.
For me, I decided to make this tasty soba noodle dish to nourish my body and spirit as I keep taking steps towards my vision for the new year ahead.  It's full of fibrous collard greens loaded with calcium for bone-protective powers. Each 1-cup serving offers roughly 266 milligrams.
Cheers to a healthy and happy New Year of dreaming big, taking action and discovering nourishment that is most real and true for you.
---
Recipe
The Goods
1 bunch collard greens, de-stemmed
1 sheet nori seaweed, cut with scissor shears into thin strips
soba noodles, 4 ounces
2 tsp light sesame oil
4 tsp dark sesame oil
6 portobello caps, sliced diagonally
4-6 carrots, julienne cut
1 tbsp tamari (soy sauce)
1 tbsp ginger, freshly grated
The Magic: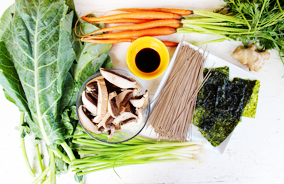 STEP 1:: Working with several collard leaves at a time, roll them up, then slice crosswise into narrow (1/4-inch) strips. Wash and rinse well, but don't dry. Pass the nori back and forth over an open flame until the color changes from purple to green (12 passes or so). Snip the sheets into 1/4-inch-wide strips; set aside. Or use seaweed that has already toasted from seaweed snack packs (found in Asian food section at the market).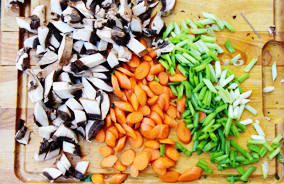 STEP 2:: Chop all your ingredients.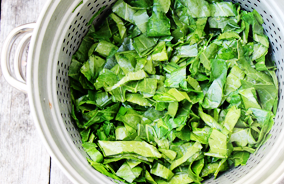 STEP 3:: Bring a large pot of water to a boil with a colander placed inside. Add the collards, steam for 3 minutes, then pull out the colander and set aside. You will want to keep the water to boil the noodles in.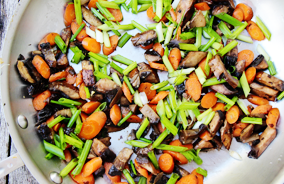 STEP 4:: Heat a skillet over very medium heat. When it's hot, add the light sesame oil and 2 teaspoons dark sesame oil. Then add the scallions, carrots, and mushrooms.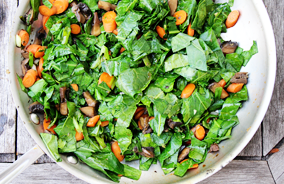 STEP 5:: Next, add the fresh grated ginger and steamed collards. Toss well.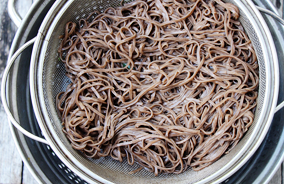 STEP 6: Bring reserved collard water to a boil and drop noodles in. When the they are done, after 4 to 5 minutes, scoop them drain them through a colander and add to the skillet, along with the tamari soy sauce and sesame seeds. Toss well, then pour in the remaining dark sesame oil and toss again. Garnish with the nori strips and serve.