CLEARING THE FRIDGE
There have been plenty of times I've had to toss perfectly good food because I let it sit for too long in my fridge. According to the Feeding America Organization, 70 billion pounds of good, edible food goes to waste each year in America. That means that nearly 40 percent of all food that is grown, harvested and produced is filling landfills rather than feeding people. This is an appalling statistic that motivates me to become more thoughtful around how I consume my food. I've found that taking time to see what I have before I go back to the store helps me stretch my creative recipe muscle, forces me to try new combinations, keeps down on kitchen clutter and is a really fun way to share an evening with friends. Some times it work out better than others : )
This week I set out to create a recipe I could use with the last remaining fresh produce in my fridge – romaine lettuce, jalapeno's, half a red and half a white onion. I normally have garlic, lemons and spices on hand, so I then checked my pantry and discovered a big bag of green lentils. I was ready to get started! The recipe below is what transpired. I hope you enjoy!
Recipe
The Goods:
1 cup green lentils
3 cups water or broth
2 tablespoons olive oil
1 large onion, chopped
2 cloves garlic, minced
1 small jalapeno, optional
2 tablespoons curry powder
1 tsp turmeric
1 lemon, juice
1 head romaine lettuce
sea salt to taste
This recipe is delicious with this tahini dressing or dressing of choice.
The Magic: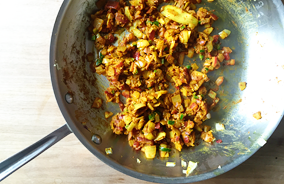 STEP 1: In a saucepan bring two cups of water to a boil. Rinse lentils in a fine mesh strainer under water and place in boiling water. Reduce heat and cook on low for 20-25 minutes. While lentils are cooking, chop onions, garlic and jalapeno. In a medium saute pan, add olive oil, onions, garlic and saute until translucent in color (approx 5 minutes). Add lemon juice to the mixture along with curry and turmeric spice and chopped jalapeno. Combine thoroughly and add sea salt to taste. Set aside.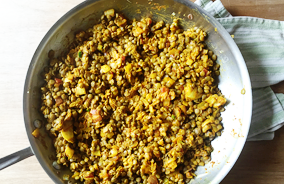 STEP 2: When lentils are finished cooking, drain excess any excess water and add to the onion garlic and spice mixture in the saute pan. Combine thoroughly. Let the mixture cool for a bit and then top on romaine lettuce leaves. Add your favorite dressing. I used this delicious tahini one. Enjoy!