A WARM BOWL OF SPRING BOUNTY
This is a very simple soup that's full of spring's bounty. Chock-full of spring greens this light and nourishing soup provides a unique flavor that's bright and clean with earthy undertones. The combination of sweet peas, mildly flavored fresh asparagus spears, delicately sweet baby spinach and the crisp bite of cauliflower rice is a match made in simple spring soup heaven.
Special note: The cauliflower rice can be substituted with your rice of choice. Add the rice after broth has been added to the saucepan with the sauteed garlic and shallot. Adjust the cooking time tailored to the rice of choice. Add the veggies the final 5-8 minutes of cooking. Enjoy!
---
The Goods
Recipe
1 bunch asparagus, trim and discard ends then slice into 1-inch diagonal pieces
2 cups green peas, fresh or frozen
2 shallots, minced
2 garlic cloves, minced
2 carrots, thinly sliced rounds
1.5 cup cauliflower rice, 1/2 head of cauliflower and pulsed in food processor into rice-like pieces
2 cups fresh baby spinach
6 cups vegetable stock
2 Tbs extra virgin olive oil
sea salt and fresh ground pepper, to taste
The Magic: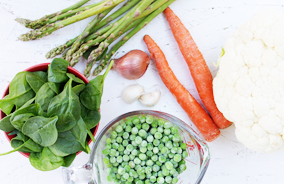 STEP 1:Gather ingredients for preparation.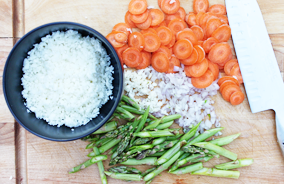 STEP 2: Once ingredients are prepped, heat the olive oil in a large saucepan over medium heat. Add minced shallots and garlic and saute for 1-2 minutes until soft and translucent.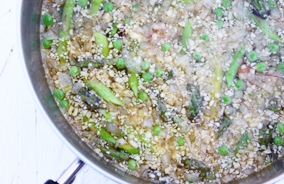 STEP 3: Add the stock to and increase the heat to medium-high. Add the carrots, asparagus, green peas, cauliflower rice, sea salt and pepper and simmer for 8-10 minutes - retaining the veggies slightly crispy texture and colorful appearance. Add the baby spinach before serving and let simmer 1 minute.