ASPARAGUS CONTAINS MORE FOLATE THAN ANY OTHER VEGGIE.  It is necessary for healthy cell division and DNA synthesis, and instrumental in preventing birth defects – to name a few. It's peak asparagus season as we speak, so now is the best time to enjoy them reap their amazing benefits! This veggie is a fantastic source of fiber, potassium, vitamins A, E, C and thiamin – a B vitamin that plays a role in how our bodies use energy from food and important for cellular function.
An important thing to note – when comparing folate to folic acid, it's important to point out that folate is naturally occurring in foods (mainly leafy greens), where as folic acid is a synthetic compound used in dietary supplementation and does not occur naturally. Enjoy!
---
Recipe
The Goods:
2 lbs asparagus (ends trimmed)
4 ounces smoked salmon, thinly sliced
The Goods: Vinaigrette
1 tablespoon dijon mustard
1/4 cup olive oil
1 tablespoon sherry wine vinegar
1 tablespoon spring onion, finely chopped
Pinch of black pepper
For the vinaigrette, whisk the mustard, olive oil and sherry vinegar in a small bowl. 
The Magic: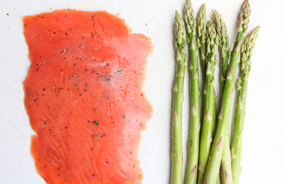 STEP 1: Using a steamer cook the asparagus until al dente - approximately 5 minutes. Remove the cooked asparagus from the steam er and place in a dish of ice water to stop cooking. Remove asparagus the from the ice water and sit in a strainer to drain the water.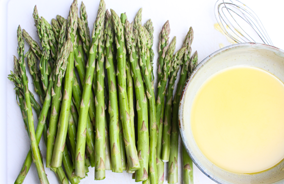 STEP 2: Using 4 spears of asparagus, gently wrap a slice of smoked salmon around them. Drizzle the vinaigrette over the salmon-asparagus wraps. Add chopped spring onion and fresh ground pepper. Enjoy!