CRUCIFEROUS VEGGIE TO NEUTRALIZE AND BEAUTIFY
Cruciferous veggies, like cabbage, contain some of the largest concentrations of health-promoting sulfur compounds. These compounds increase the liver's ability to produce enzymes that neutralize potentially toxic substances. This is one reason I enjoy experimenting with easy ways to prepare it – in addition to it being one of the most nutritious vegetables around!
According to whfoods.org "more than 475 studies have examined the role of this cruciferous vegetable in cancer prevention (and in some cases, cancer treatment). The uniqueness of cabbage in cancer prevention is due to the three different types of nutrient richness found in this widely enjoyed food. The three types are (1) antioxidant richness, (2) anti-inflammatory richness, and (3) richness in glucosinolates."
Folk Medicine claims that it's juice offers powerful cleansing abilities too.  It's wonderful for skin cleansing and valued for its complexion enhancing benefits that the sulfur content offers.  Add that to it's high Vitamin C levels critical for blood vessel integrity, connective tissue and bones, and you have yourself a crucifer that will serve you well this summer!
Recipe:
The Goods
*Don't forget to drink the water after steaming!
The Magic: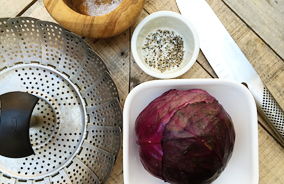 STEP 1: Gather all ingredients and tools.
STEP 2: With a chefs knife, cut cabbage in half first, then into fourths.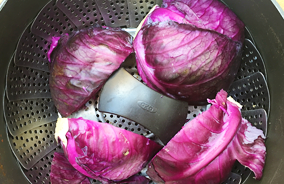 STEP 3: Add about an inch water to a medium sauce pan. Place steaming basket inside along with cabbage wedges. Cover and steam for 8-10 minutes. Set aside to cool for a few minutes. Dress with viniagrette, serve and enjoy!