CRUNCHY BUNCHES AND OATS
This nut and seed cereal with it's toasty flavor and crunchy bunches is a winner in my book. In an experiment to pack as much nutrition into a morning cereal (or afternoon snack) as possible, I started whipping out my super seeds and crunchy nuts to see what I could muster. Instead of going on for days about the benefits of nuts and seeds, I've highlighted how this magical combo can serve your amazing body:
Almond's digestive health benefits are loaded with dietary fiber
Flax relieves inflammation and strengthens immunity with heapings of omega-3s
Pumpkin seed's hormone-building elements support normal sex function
Coconut oil metabolizes and converts energy quickly with it's medium-chain saturated fats
Hemp seeds are a potent natural source of magnesium required for healthy metabolism
And that's just a few! I hope you enjoy. xo.
Recipe
The Goods:
2 cups oats (I used gluten-free oats)
1/2 cup hazelnuts
1 cup almonds
1 cup pumpkin seeds (aka pepitas)
1/2 cup flax seeds
1/4 cup hemp seeds
3 Tbsp coconut oil
3 Tbsp maple syrup
2 cups organic coconut flakes (optional)
2 tsp cinnamon
sea salt
*Add your favorite dried fruit or fresh fruit topping. I added dried mulberries, fresh organic raspberries and organic frozen blueberries.
The Magic: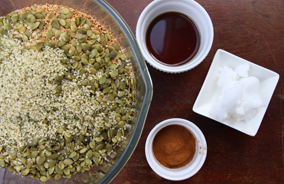 STEP 1:Pre-heat oven to 350 degrees. Place the almonds and hazelnuts in a food processor and pulse until they are partially chopped, approximately 30-45 seconds. Add crushed nuts to a mixing bowl with other dry ingredients (holding the cinnamon. hemp seeds and coconut flakes), and mix together. Next, in a small saucepan, melt the coconut oil with the maple syrup and cinnamon. Once combined and melted together, add it to the dry bowl and mix well.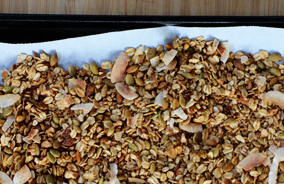 STEP 2:Place the mixture into a baking tray and bake for about 30-40 minutes. Stir the mixture occasionally throughout the cooking process to avoid burning. For the final 10-15 minutes of cooking time, add coconut flakes and mix well. Finally, add hemp seeds when finished. Add your favorite toppings, milk of choice and delight yourself with this delicious, nutritious cereal!