PEACHES FRESH OFF THE TREE…
I have been patiently waiting for the opportunity to swipe up some fresh Georgia peaches to make a cool sweet treat. As I was driving down the road recently I spotted The Peach Truck in Nashville, TN and was thrilled to catch them on their annual small town peach tour. These peaches were absolutely divine and as rich and juicy as their sweet southern reputation.
After bringing these beauties home I decided to experiment with a dairy-free ice cream using coconut milk as the base. The smooth consistency of the full-fat coconut milk is the key to creating an ice cream that'll have you questioning it's vegan-ness. It's the real, creamy, fatty, delicious deal.  For the sweetener, I used maple syrup that paired nicely with the peaches and toasted almonds flavors. A delicious local honey is another great option too. I hope you enjoy!
Recipe
The Goods
2 cans 13.5 ounce full-fat coconut milk
1/2 cup maple syrup (I used Grade A Medium Amber)
1 Tbs arrowroot starch
1 teaspoon vanilla extract
1/4 teaspoon almond extract
4 peaches, sliced with skin
1/2 cup almonds, toasted and coursely chopped
Sea salt, a couple dashes
*Recipe adapted from The Kitchn.
The Magic: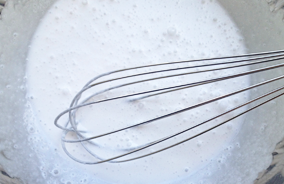 STEP 1: Shake the canned coconut milk well and set aside 1/2 cup coconut milk. Whisk well the arrowroot starch with the reserved coconut milk.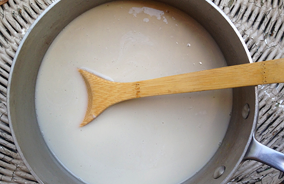 STEP 2: Pour remaining coconut milk into a sauce pan and add the maple syrup and heat on medium for 2 minutes. Pour the starch mixture into the coconut milk and gently whisk for a few minutes on medium heat. Stir until the base has thickened enough to coat the back of a spoon, 5-8 minutes.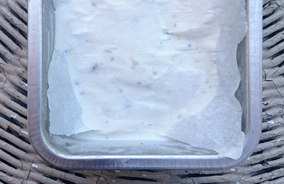 STEP 3: Remove the base from heat and stir in vanilla and almond extract. After letting the base cool slightly, Transfer into a shallow container to cool. Next, press of plastic wrap against the surface - this will prevent a skin from forming on top. Cover the container and refrigerate for 2-4 hours. Once chilled, remove the ice cream base from the fridge and pour into ice cream machine. Depending on your machine, this could take up to 30-35 minutes. During the last 5 minutes of churning add the peaches, toasted almonds or goodies of choice.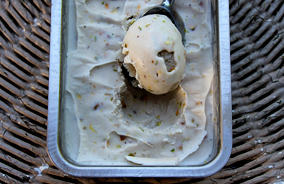 STEP 4: Transfer the ice cream into a freezer container. Press a piece of parchment paper against the surface to prevent ice crystals from forming. Place in freezer for a few hours to harden. Enjoy!