CELEBRATE GOOD TIMES, COME ON!
I love chocolate, and I'm smitten for sweet potatoes. So, I thought I'd experiment with a new Fall dessert.  Fall is a time of birthday celebrations for close friends and family members (including my Dad, myself and twin brother.)  I thought, why not combine the two to make a sweet potato brownie sundae? So, I did! Now, you be the judge. Whether you are celebrating a birthday, special occasion, or just want to have some fun in the kitchen, this unique recipe will delight you and your taste buds. Also…
Sweet potatoes are rich in potassium for bone-building super powers
Mix sweet potatoes with cream to help the body convert carotenes to all-important vitamin A
Dark chocolate enhances your love life…and it's just plain good
Recipe
The Goods: Sweet Potato Brownie
 1 large sweet potato, peeled and cut into chunks
1/2 cup ground almonds
1/2 cup gluten-free oat flour
18 honey dates, pitted (you can use medjool dates too)
6 Tbsp of raw cacao
2 Tbsp coconut oil
3 Tbsp maple syrup, local honey, molasses or combo (I used molasses and maple syrup)
pinch of sea salt
The Goods: Chocolate Sauce
 1 large avocado, peeled and seeded
5 Tbsp raw cacao powder
1/4 cup agave nectar
1 Tbsp coconut sugar, optional
1/2 tsp vanilla extract
1/8 tsp cinnamon
2 Tbsp plus 1/2 purified water
*Brownie recipe adapted from www.deliciouslyella.com
The Magic: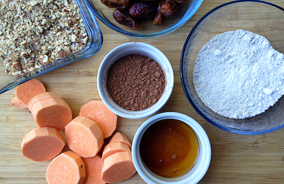 STEP 1: Pre-heat oven to 350 degrees. Peel the sweet potato and cut into slices. Steam until they become very soft - approximately 20-25 minutes. While steaming combine all other ingredients in a bowl and set aside.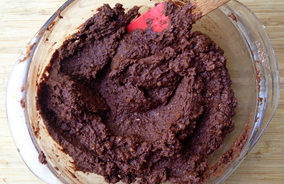 STEP 2: Once the sweet potatoes are cooked, combine them with the dates in food processor and process until silky smooth. Add all other ingredients and process some more. Coat a baking dish with coconut oil, spread the mixture evenly and cook for 15-20 minutes. Let cool for 10 minutes. Add your favorite organic ice cream or non-dairy alternative (I used coconut milk ice cream), top with chocolate sauce and sprinkle with cocoa nibs if you're feeling fancy.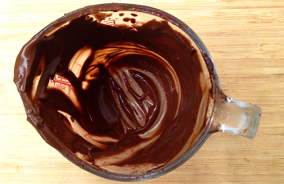 STEP 3: For chocolate sauce: Combine avocado, cacao, agave nectar, sugar, vanilla extract and cinnamon in a food processor with 2 Tbsp of water, and process until mixture is smooth.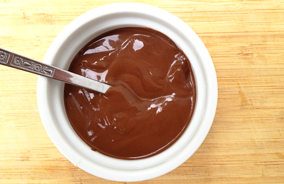 STEP 4: Add the remaining 1/2 cup water and process again until well blended. The more water you add, the thinner the sauce will be. (If you are using a blender, be careful not to blend too long, or it will beat too much air into the sauce and it will become too fluffy.) Store in a sealed glass jar in the refrigerator for up to one week.