A SWEET WAY TO SAVOR PASTA
The Sweet Potato Noodle
This delicious sweet vegetable is rated as one of the most nutritious, according to The Center for Science in the Public Interest. Sweet potatoes are high in beta-carotene, a compound that helps maintain healthy skin and plays a vital role in eye health. Individuals who consume the necessary levels of beta-carotene can lower their risk for coronary artery disease, stroke, macular degeneration, and other age-related diseases.
Sweet potatoes are considered a low-glycemic index (GI) food, which is good news for diabetics. Contrary to its sweet name, they help stabilize blood sugar levels and improve insulin resistance, according to 101 Foods That Could Save Your Life by David Grotto.
I especially enjoy the flavorful sweet potato noodle in combination with the meaty texture of Kalamata olives that are full of healthy monounsaturated fats. Deemed as one of the best olive varieties due to their careful hand-picked harvesting methods and red wine vinegar curing method, they are hard to beat in complimenting the semi-sweet potato. Combining garlic, fresh  greens and sun-dried tomatoes along with a dusting of parmesan hits the spot. It's a unique symphony of sweet and salty flavors with a big dose of anti-inflammatory properties.  Now is the perfect time to get noodling and soak up the bounty of benefits this dish has to offer. Enjoy!
Recipe
The Goods
3 sweet potatoes, made into noodles with spiralizer*
1 cup, kalamata olives
2 cups, mixed greens (ex. baby kale and spinach)
1/4 cup sun-dried tomatoes in olive oil, chopped
3 garlic cloves, minced
1 Tbsp extra virgin olive oil
1/4 cup fresh basil, garnish
1/2 cup parmesean cheese or goat cheese (optional)
crushed red pepper (optional)
*Spiralizer – An inexpensive tool that turns fresh veggies into noodles and ribbon-like slices. The model I recommend and enjoy is from World Cuisine and can be found on Amazon here.
The Magic: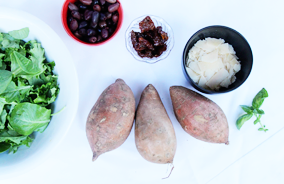 STEP 1:Collect ingredients to begin prep.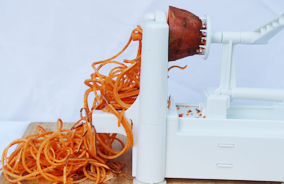 STEP 2:Run sweet potatoes through a a spiralizer* to create noodles. Set aside. Mince garlic and chop sun-dried tomatoes and set aside.
STEP 3:Place sweet potato noodles in a steamer for 15 minutes or until mostly tender. While noodles are steaming, saute garlic over medium heat in a cast iron skillet for 5 minutes.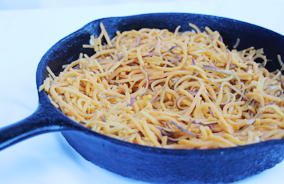 STEP 4:Transfer steamed sweet potato noodles into cast iron skillet and thoroughly coat with garlic and olive oil. Combine sun-dried tomatoes, greens, olives and mix well. Set burner to low heat, add parmesean cheese, cover and cook until greens are wilted and cheese is melted. Garnish with fresh basil leaves and serve immediately.