JOY TO THE TOAST
Looking for tasty toast fixings?  You can start by adding some garden greens that sprout like colorful rainbows from the earth, Swiss Chard! Saute with extra virgin olive oil, garlic, onions and olives and smother over a smidge of melty, gooey cheese toast and you'll bring some joy to this world because you've discoverd joy in some toast!
Additional joys of Swiss Chard include…
An abundance of potassium to regulate blood sugar.
Rich with iron, magnesium, and vitamins A, C and K.
A flavonoid called xylosylvitexin that inhibits the growth and duplication of human colon cancer cells.*
Finally, it's a versatile leafy green that hangs in there though summer and fall. In warmer months, it tends to be less tender and requires 1-2 additional minutes of cooking time. So, if you have a garden, you can snip off the extra tender baby leaves for a soft texture that adds beautiful colors to your mixed green salads. Or enjoy a top toast for some simple joy and satisfaction!
* The Best Things You Can Eat by David Grotto, RD, LDN
---
Recipe
The Goods
1 sourdough baugette, sliced
Extra virgin olive oil (lightly spread over bread)
2 buratta cheese balls (tennis ball size, or mozzarella)
1 onion, sliced
1 garlic clove, sliced
1 cup mixed green and black olives, pitted and sliced
1 bunch of Swiss chard leaves, rinsed, with stem removed and chopped
Chili pepper flakes (optional)
Black pepper
The Magic:
STEP 1: Gather a fresh bunch of Swiss Chard, wash thoroughly, remove stems and coursly chop. Set aside.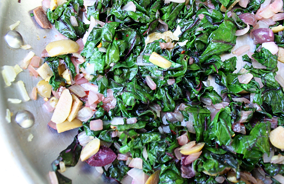 STEP 2: Heat olive oil in a large sauté pan over medium heat. Add the sliced onion and cook, stirring frequently, until lightly browned, about 10 minutes. Season with a pinch of salt. Add the garlic and cook for 30 seconds. Pile the chard on top, reduce heat, add olives and cover pan and cook for 4 to 5 minutes or until leaves begin to wilt. After a few minutes, use tongs to rearrange the leaves and continue cooking the chard until liquid evaporates. Brush bread slices with olive oil and toast in the oven. Spread buratta cheese over toasted bread and top with cooked chards leaves and olive topping. Sprinkle with fresh pepper and/or pepper flakes and serve.