NO COOKING REQUIRED
Cucumber cups topped with tuna tartare bursting flavors & freshness that'll make you feel like a superstar star. Simply slice, dice & garnish with toasted sesames.
Recipe
The Goods:
1 hot house cucumber, cut into 1 inch thick rounds
1/4 pound sushi-grade tuna, diced (sustainable tuna)
1/2 tsp finely chopped shallot
1 Tbsp. extra-virgin olive oil
2 Tbsp. tamari (soy sauce)
1/2 tsp hot sauce
3 Tbsp. sliced fresh chives
wasabi paste for added kick (optional)
toasted sesame seeds for garnish (optional)
The Magic: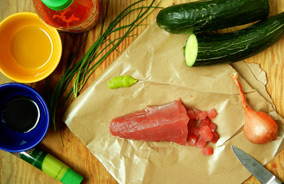 STEP 1: Gather all ingredients for the recipe. Slice the tuna into small cubes & measure out all ingredients. Combine tuna, shallot, oil, tamari, and pepper sauce in a large bowl and set aside.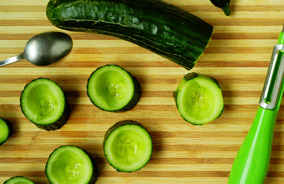 STEP 2: To make cucumber cups, scoop out center of each cucumber piece with a small spoon, be careful not to pierce the bottom of the cups.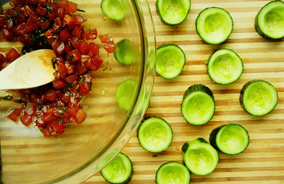 STEP 3: Spoon 1 heaping Tbsp tuna tartare into each cucumber cup, garnish with toasted sesames & a small dollop of wasabi paste for some kick! Makes about 15-20 pieces.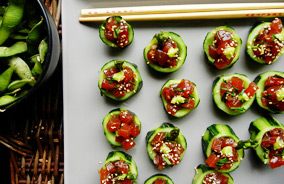 STEP 4: Add any veggies/herbs of choice to mix it up. Asparagus, cilantro, avocado, fresh sprouts, shredded carrots, etc. Have fun!
Mindful Morsel
Organizations like the World Wide Fund for Nature & other NGO's as well as the fishing, processing and retailing sector are working to transform tuna fishing into a sustainable business & to create more efficient tuna management. Be sure to support sustainable practices with these tips!