A DELICIOUS CREAM FOR SPECIAL TREATS
I make this go-to scrumptious cream for different treats to enjoy with decadent desserts, fresh berries, or to add some silky smoothness to a cup of fair-trade, organic coffee for a delightful weekend treat.  I use canned coconut milk for this recipe and it only takes only 5 minutes to prepare.  Once it's made I store it in a jar in my refrigerator to use throughout the week.  The one thing to keep in mind when buying your coconut milk is to look for cans that are BPA-free. To learn more about the health concerns of BPA (Bisphenol A) read more here.
I hope you enjoy this delicious dairy free alternative that's full of plant-based saturated fats that you and your body will love!
Recipe
The Goods:
2 cans full fat coconut milk from BPA-free can (Ex. Native Forest brand)
1 tsp vanilla extract
2 Tbsp of maple syrup or honey (or liquid stevia, 3 drops)
IMPORTANT STEP: Begin prep for vanilla cream the night before by placing both cans of coconut milk in the fridge. 
The Magic: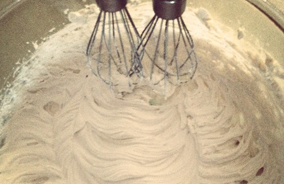 STEP 1: Place 2 cans of coconut milk (full-fat) in the refrigerator overnight. When ready to use, remove only the top fatty layer from each & save the liquid for other recipes (like smoothies or soups). Add maple syrup (or a couple drops of liquid stevia) and vanilla. Whip together with a high speed hand mixer to create a stable coconut vanilla whip. Set in fridge until ready to use. Lasts for 3-5 days.