PERFECT FOR A WARM HEARTY DISH
The Fall provides us with an abundance of winter squash in stores and Farmer's Markets, so it's time to take advantage! Though this particular recipe is considered more difficult than most on my site, I guarantee it's worth the effort. The sweetness of the pumpkin, spiciness of the peppers, citrus of the lime, and mild-tasting chickpeas make for an amazingly tasty flavor combination.
Sugar pie pumpkins are a smaller variety of pumpkins that are sweeter and have close-grained flesh, which makes them a much better choice for cooking. In addition, the deep orange color of pumpkins means that it's packed with powerful compounds called carotenoids that have been linked to cancer prevention, reduced risk of heart disease and improved vision. Yes, please!
Whenever I create dishes requiring various ingredients I make sure to create enough to share with family and friends to enjoy for the next few days. This one's a perfect example.
Recipe:
The Goods: Curry Fixins'
1 small sugar pig pumpkin, peeled and cut into 1 inch cubes
1 red bell pepper, chopped
2 small serrano chile peppers, chopped
1 can BPA-free chickpeas from Eden Organics (aka garbanzo beans, lightly drained)
1 cup cherry tomatoes
basil for garnish
 The Goods: Curry Sauce
1 shallot, minced
2 cloves garlic, minced
juice of 1 lime
1 Tbsp red curry paste
1.5 Tbsp coconut sugar
1 can coconut milk
6-8 kaffir lime leaves (optional)
sea salt to taste
The Magic: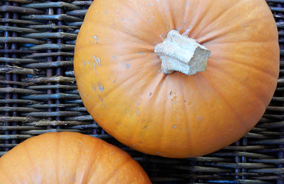 STEP 1: For the curry sauce, chop and mince all ingredients. Combine everything in a saucepan and let simmer on low. To cut the pumpkin, use your heaviest chef's knife. It should feel comfortable in your hand. Insert the point of the knife at the top of the pumpkin and push in. Slowly and carefully apply pressure straight down. Pause to move the knife from side to side, widening the crack. Work your way slowly down the side of the pumpkin. Holding the pumpkin down, repeat on the other side. Pull apart with your hands, cracking at the stem. Voila! Your pumpkin has been cut! Now slice each side into fourths, skin, and then cube into 1 inch pieces.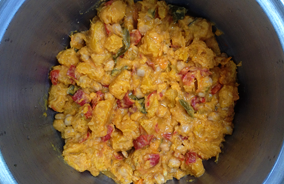 STEP 2: For the curry fixins', steam pumpkin chunks in a steamer for 10-15 minutes. Next add pumpkin chunks to sauce and let simmer for 15 minutes. Add red bell pepper, serrano chile peppers and chickpeas and cook for an additional 20 minutes. Add sea salt to taste. Cooking times may vary so check tenderness of pumpkin to meet desired texture. Finally, toss in the tomatoes for the last few minutes. Add water if needed. Serve over wild rice or rice or quinoa and garnish with basil. ENJOY!