A BIG OL' IRON SKILLET OF VEGGIE-LADEN GOODNESS
Springtime has a wonderful way of lifting the spirit and nourishing the soul that ignites restoration, innovation and new creation!  Known as nature's birthing season, spring displays it's beauty by sprouting newness all around us. It's a time when growth is stimulated in every aspects of our lives. All this blossoming had me shimmying in my kitchen with excitement for longer days and warm sunshine rays! This celebration of renewal sparked a veggie-packed version of the classic Spanish rice dish, paella. It is through whole foods, such as vegetables, that we are able to glean the vital energy from Mother Nature giving us a spark for making changes.
This accelerated version of paella is prepared in a cast-iron skillet which can increase iron content in food up to 20 times! Since Iron deficiency is fairly common worldwide, especially among women, this choice of skillet is very beneficial for those needing a boost.
I hope you enjoy!
The Goods:
2 Tbsp extra virgin olive oil
asparagus (approximately 20 spears)
1 red bell pepper, chopped
1 yellow pepper, chopped
4 green onions, chopped
2.5 cups vegetable broth
3 garlic cloves, minced
1 tsp saffron threads
1 cup short-grain organic brown rice
1 cup frozen baby peas
1 zucchini, chopped
1 cup cherry tomatoes, halved
20 green olives, pitted
20 black olives, pitted
1 lemon, sliced into wedges
sea salt and pepper
*Recipe inspired by Victoria Abbott Riccardi
The Magic: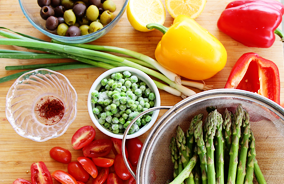 STEP 1: Prep and assemble veggies. Heat olive oil in a large nonstick skillet over medium heat. Add peppers, green onions and cook for 5 minutes. Add the broth, garlic and saffron and bring to a boil. Add the rice over ingredients, reduce heat to medium and simmer for 10 minutes (covered).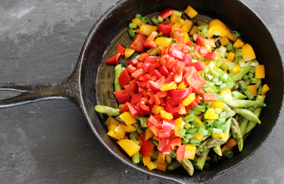 STEP 2: Add the asparagus, zucchini, peas, tomatoes, and olives. Cover and cook for 15 minutes, or until rice is tender. Add sea salt and pepper if needed. Spoon into bowls and add a splash of lemon. Enjoy!