"LIFE IS JUST A BOWL OF CHERRIES"
Lew Brown phrased it well when he wrote the lyrics to the song "Life is just a bowl of cherries." He writes, "don't take it serious, it's too mysterious. We're not here to stay, we're on a short holiday." So, I decided to create a frosty cherry beverage to follow through with his advice. Cherries, both sweet and sour, have high levels of seven phenols, which help fight disease according to researchers at Cornell University who analyzed several cherry cultivars. They are also linked to reducing levels of several compounds tied to arthritis and gout and are tops in anthocyanins shown to calm inflammation.  Since these beauties were on sale during a time when my funds are low and while I'm undergoing a stressful transition, it sealed the purchasing deal.
So, I took a few bags of cherries home with my stressed, inflammed-self, created this delicious frosty summer sipper and played "Life is just a bowl of cherries…".  I hope you enjoy!
*For non-virgin beverages, use 8 oz. of sparkling mineral water instead of 16 oz. and add 2 ounces of rum to each frosty glass. Makes 2 servings.
Recipe
The Goods
2 cups cherries pitted and juiced (or blended)
2 limes, juiced
16 oz sparkling mineral water
2 Tbsp fresh mint, chopped
3 cups ice, crushed
a few drops of stevia for desired sweetness
The Magic: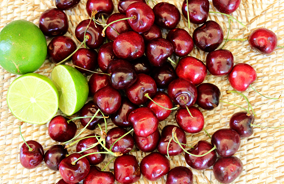 STEP 1: De-stem and pit cherries. Juice (or blend with a smidge of sparkling water) the cherries. Set concentrated cherry juice aside.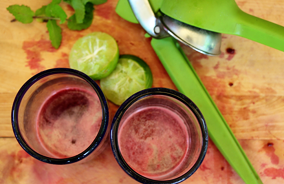 STEP 2: Juice the limes and mix with fresh cherry juice. Divide in half the cherry-lime mixture into two glasses. Muddle extra cherries with fresh mint (as much as you desire!) and add to each. Add about a cup of sparkling mineral water (half a cup if making non-virgin option) to each and a few drops of stevia to reach desired sweetness. Add the crushed ice and top with fresh mint. For non-virgin refreshers, add about 2 oz rum in each and enjoy!