NOTHING SCREAMS SUMMER QUITE LIKE IT…
A bright red melon with fresh berries, that is. A refreshing addition to share with your BBQ'ing bunch tomorrow as we celebrate our Independence!  It also marks year two of having launched my website, so I would like to pay a special thank you for your support over the recent years : ) This simple recipe is made with as much love and appreciation as I could possibly muster to honor YOU and our great FREEDOM! Whether you're celebrating at the lake, beach, your backyard, or not celebrating at all, you are honored.
Now, to give you the juicy scoop on watermelons and how they honor us, let's look at the color of their flesh. A deep red color means it is loaded with an antioxidant compound called lycopene that gives tomatoes, watermelons and other fruits their beautiful color. A red-ripe melon can have three times more lycopene than a melon that is semi-ripe and pale in color, so color is key for the benefit of your beautiful body! Why? Because lycopene is a potent quencher of free radicals.
How do you select the sweetest and most nutritious melon? Look for the "ground spot," the part of the melon that was in contact with the soil. It should be yellow, not green or white. Next, tap on the watermelon and listen for a hollow sound rather than a flat thump.
Happy 4th of July, lovely friends! I hope your holiday is filled with lots of fun and loads of lycopene. XO!
Recipe
The Goods
1 seedless organic watermelon (2-3 Ibs)
1 pint organic blueberries
1/4 cup fresh basil, chiffonade (see instructions below*)
1-2 limes, juiced
*Chiffionade chopping technique – Stack 4-5 basil leaves on top of each other. From the base of the stacked leaves, roll upwards to create a cigar-like shape. Use a chef's knife to make very fine, parallel cuts to produce fine shreds.
The Magic: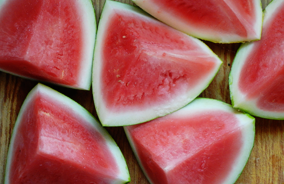 STEP 1: Begin by chopping watermelon into halves and then into quarters. Remove rind and cut quarters into cubes and place in a large mixing bowl.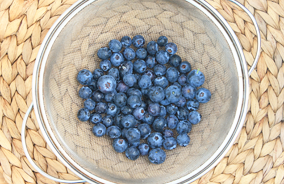 STEP 2: Add the fresh blueberries and basil and douse with fresh lime juice. It's best to chill before serving for a refreshing summer treat. Enjoy!