FOR THE LOVE OF FRITTERS
Zucchini is a type of summer squash loaded with the powerful antioxidant vitamin C. This particular antioxidant is great for helping your heart operate at it's best during warm summer months. It's rich content in both vitamin C and A help protect LDL cholesterol (bad cholesterol) from oxidation – a process that can lead to atherosclerosis.
These easy to prepare fiber-filled, folate-rich fritters will make your heart flutter with love for this summer veggie.  Here's a simple recipe to help you reap some of it's fabulous benefits!
---
Recipe
The Goods: Zucchini Fritters
2 zucchini, coarsely grated
2 eggs, beaten
1 cup baby spinach, coarsly chopped
1/2 cup basil leaves, finely chopped
1/2 cup almond meal
1/2 teaspoon ground cumin
1/2 teaspoon ground coriander
1 tablespoon ground flax seeds
1 tablespoon organic coconut oil
sea salt and pepper to taste
The Goods: Lemon Zest Yogurt
1/2 cup Greek yogurt
1/2 lemon, juice and zest
dash smoked paprika (or regular paprika)
sea salt and pepper to taste
The Magic: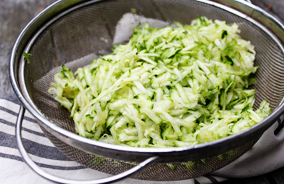 STEP 1: Fritters - Put the ground zucchini in a colander with sea salt. Set aside for 10 minutes to 'weep' pulling the moisture from the zucchini. Squeeze dry with your hands.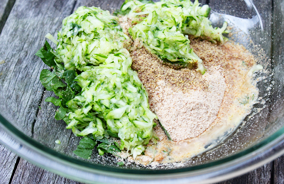 STEP 2: Fritters - In a medium bowl, combine zucchini and all the remaining ingredients except the coconut oil. Coat a cooking pan with coconut oil set to medium heat. Add large spoonfuls of the zucchini mixture in batches. Us a spatula to press the mixture to flatten.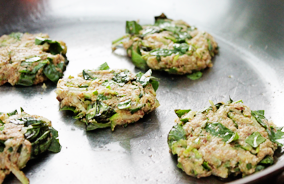 STEP 3: Fritters - After 3 minutes, turn the fritters and cook the other side for 2 minutes or until golden brown. Repeat until the batter is gone.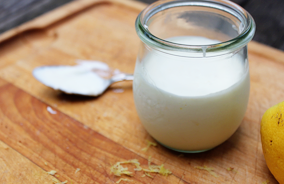 STEP 4: Lemon Zest Yogurt - Combine the Greek Yogurt, lemon juice and zest in a small bowl. Season with salt and pepper.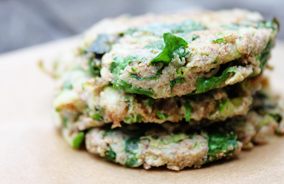 STEP 5: Serve fritters over your favorite greens with avocado, a dollop of lemon zest yogurt, and sprinkled with smoked paprika. Enjoy!