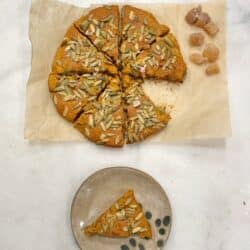 Simple Pumpkin Ginger Scones
Eating for enjoyment. Food nourishes our soul, and eating foods we like is integral to that. I love scones, pumpkin, and cashews, so I married the three! They're simple to make and delicious. The nuts, seeds, and pumpkin are fiber-rich, helping keep you regular during the delightful feasting season. With a nice hint of sweetness from the crystallized ginger and a touch of maple syrup, this recipe makes a delicious holiday treat to savor and enjoy!
Ingredients
1 1/2

cup

raw cashews

1/4

cup

arrowroot powder

1/2

cup

pumpkin

canned

1

egg

1/2

cup

pumpkin seeds

1/2

tsp

ground cinnamon

1/2

tsp

ground nutmeg

1/2

tsp

ground allspice

1

tsp

baking powder

1/4

cup

crystalized ginger

finely chopped

2

tsp

vanilla extract

1/4

cup

extra virgin coconut oil

3

tbsp

maple syrup

a pinch of

sea salt
Instructions
Preheat the oven to 350°F and line a 9-inch metal pan with parchment paper.

Make the cashew flour. Measure 1½ cups of cashews and add them into a food processor, blend until they resemble a coarse meal, then pour into a large mixing bowl.

Whisk the dry ingredients - cashew flour, arrowroot starch, salt, spices, and baking powder together.

In another bowl, whisk together the egg and pumpkin then add in the coconut oil, maple syrup, vanilla extract. Please be aware that the texture of the batter will have more of a wet, cake-like consistency than a dry, crumbly, biscuit-like consistency.

Pour the batter into the parchment-lined 9-inch pan, and using the back of a spoon and/or your fingers, pat the batter into the pan so that you have an even thickness. Top with pumpkin seeds. Bake at 350°F for 30 minutes

Once they're done cooking let them cool for at least 10 minutes, slice, and savor these tasty treats!
Notes
These pumpkin ginger scones are best kept in an airtight container in the fridge and will last for 2-3 days. They freeze nicely too. Wrap each scone in parchment paper, place them in a freezer-safe container, and store them. When you're ready to enjoy, remove the parchment paper and heat in the oven or microwave. Serve warm, and enjoy!