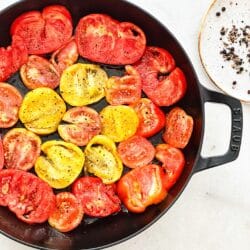 Broiled Homegrown Tomatoes
Extreme heat yields super-juicy results and a delicious way to enjoy tomatoes. Fresh from the garden and a favorite way to enjoy them is to broil! Especially when they've gone gangbusters. I love cooking with cast iron pots and pans because they offer inexpensive, healthy alternatives to your standard non-stick cookware. Also, did you know cooking with cast iron can increase iron content in food? Especially acidic food like tomatoes. It takes some intentional care to keep these kitchen tools in good condition; however, the effort it takes is well worth it!
Ingredients
4

large ripe tomatoes

1/4

cup

olive oil

(or more if needed)

dash

sea salt

(to taste)

dash

fresh ground pepper

(to taste)
Instructions
turn on the broiler, the heat should be medium-high and the rack about 4 inches from the fire. core the tomatoes and cut each horizontally into 3 or 4 thick slices. spread them out in a cast-iron skillet (or a rimmed baking sheet if you don't have one), drizzle with olive oil, and sprinkle with salt and pepper.

put the cast iron skillet under the broiler and cook them without turning until the tops are browned and bubbling (about 5-8 minutes). if they start to look dry, drizzle with a bit more olive oil.

serve directly from the cast iron skillet and sprinkle with parmesan cheese (optional). serve hot, warm, or at room temperature. get ready for your mouth to water with some sweet summer goodness.