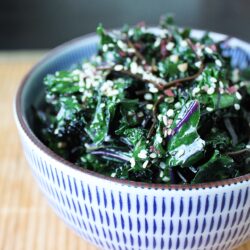 Kale with Seaweed & Sesame Seed Salt
This prebiotic-packed seaweed recipe provides a nutrient-rich addition to any meal. Not only does this prebiotics-rich food feed the healthy bacteria in your digestive system, but it's also full of antioxidants, vitamins, and minerals. In addition, it's full of iodine which is essential for metabolism. Finally, leafy greens like kale can be substituted with Swiss chard for a slightly different taste and texture, while leafy greens like these may also help slow cognitive decline as we age.
Ingredients
Gomasio
1

tbsp

sesame seeds

1

tbsp

hemp seeds

1

tbsp

flax seeds

1

tsp

coarse sea salt

1

tsp

dulse flakes

(type of seaweed)
Kale + Arame
1

cup

arame

(type of seaweed)

1/4

cup

toasted sesame oil

(divided)

2 1/2

tbsp

minced ginger

2 1/2

tbsp

minced garlic

3

bunches

kale

(stems removed and torn or chopped)

1

tbsp

tamari
Instructions
Gomasio
for the gomasio, place seeds, salt, and dulse in a mortar and pestle. grind until the seeds are slightly crushed and well combined. set aside.
Kale + Arame
rinse the arame in water and place in a bowl. cover with water and soak for about 5 minutes. drain, place back in bowl, and add 1 ½ tsp of the sesame oil and the minced ginger.

in a large pan on medium-low heat, add 1 tbsp of the sesame oil and add the garlic. saute gently. add the arame mixture and cook for 1 minute. remove and put back in the bowl.

to the same pan, add 2 tbsp of the sesame oil and add the kale. add the tamari and gently mix. turn down the heat to low, cover, and cook about 5 minutes, until the kale is wilted.

 remove the lid and let any liquid evaporate.

remove from heat and mix in the seaweed mixture. season with a little more sesame oil or tamari if desired.

transfer to a serving platter and sprinkle with the gomasio.
Notes
Special Note: You can purchase already made Gomasio from your local grocery store. Gomasio is a Japanese condiment made from toasted white sesame seeds and sea salt.
*Bauman College Natural Chef Training Program Recipe