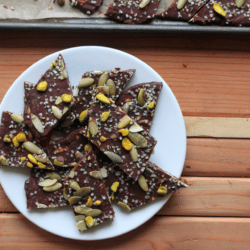 Zesty Dark Chocolate Bark
I stumbled upon this recipe in a cookbook I scoured at a bookstore. I was especially drawn to it because I saw lime zest and chocolate in the same sentence. Though skeptical but curious, I bought the book to try it out. To my surprise, this hunk of chocolate divinity turned out uniquely delicious! I love spontaneity and diversity in my kitchen. By observing others' creativity and food combinations, I give it a try see what version I can whip up. That's where the rich and zesty magic can unfold with the delicious seeds of discovery. Add your favorite seeds and a splash of your favorite citrus fruit to enliven this dark chocolate experience.
Equipment
1 medium saucepan

1 Baking Tray
Ingredients
1

cup

cacao butter

1 1/4

cup

cacao powder

1

lime or orange

(zest and use half the juice)

1/2

cup

maple syrup

1

cup

pumpkin seeds

1/2

cup

hemp seeds

1

cup

pistachios

1

pinch

sea salt

(you can try using sea salt flakes sprinkled on top instead of fine sea salt mixed into the melted chocolate)
Instructions
using a medium saucepan melt the cacao butter over low heat. once melted slowly stir in the cacao powder, lime zest and juice and maple syrup and salt if using fine ground sea salt (alternatively, you can use sea salt flakes to sprinkle on top when finished).

combine the hemp, pumpkin and pistachios and mix well. using parchment paper, line the baking sheet then pour the chocolate mixture evenly over the sheet starting in the middle. allow for 1/2 to 3/4 of an inch of chocolate thickness. If using flaked sea salt, sprinkle across the top along with any addition extra seeds you may have.

set the baking sheet in the freezer for one hour. once the chocolate has sent into a crispy bark, cut into small pieces.
Notes
*Recipe adapted from Alternate Vegan by Marie Reginato
*Recipe adapted from Alternate Vegan by Marie Reginato